About Fortune Farms
Accessible
Fortune Farms is a family owned and operated maple farm located close to Ottawa, just west of Almonte, Ontario.  We are easily accessible from paved roads and offer a range of maple products and as well as a demonstration forest with walking trails and syrup production exhibits spanning pioneer to modern times during the maple season.
Feel free to contact us for more information, or visit us at the farm.  We will take the time to explain the art and science of maple syrup production and are renowned for providing an authentic and friendly maple experience.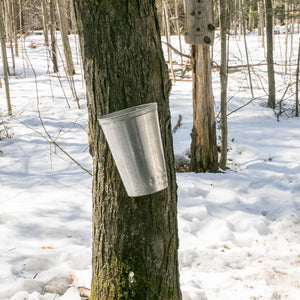 History & Land
The Fortune Family has been making maple syrup since the 1840s, throughout six generations. For the first 100 years, the family farmed in Leeds County close to Athens, and have been operating the current farm in Lanark County since 1972.
Our farms are situated on well drained sandy loam soils over white marble bedrock. This unique combination creates ideal growing conditions for maple trees and produces syrup with rich and full flavour.
Stewardship
We are federally licensed to produce maple products and our forests and processes are also certified by the Forest Stewardship Council® (FSC® C018800) through the Eastern Ontario Model Forest's Forest Certification Program. 
We have received national, provincial, and local awards for our stewardship, and we are committed to the long-term health and ecological integrity of our forests.  Our home farm is an old growth hardwood and white pine stand and some of the trees are well over 400 years old. It is truly a special place.